Smoking is the practice of inhaling and exhaling the smoke given off by ignited tobacco products. This generally refers to the smoking of cigarettes and cigars, but may also include some narcotics such as marijuana. Universally, the practice of smoking represents severe health hazards to the individual, as well as those in the immediate vicinity, who may suffer the effects of second-hand smoke. Nicotine, the prominent chemical used in the production of most tobacco products has extremely addictive properties.
In many instances, the practice of smoking is looked down upon in social situations. Many locations prohibit the practice of smoking including public transportation and most businesses. With the exception of some usage of medicinal marijuana, the practice of smoking a joint is illegal in many places.
Smoking appears in nearly all forms of fictional entertainment, but its obvious use has diminished greatly over the past several decades as public awareness of the dangers of smoking have increased as well as the harmful influence it poses to children. In media, smoking was rather commonplace up until the late 1980s. Since then, it can still be found in various films, television programs and print media, but its usage is greatly diminished.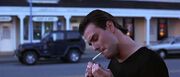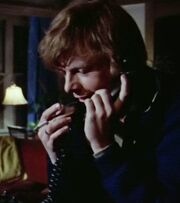 "Gone But Not Forgotten": After attempting to commit suicide, Bradley Martin is remanded to a mental care facility where she begins smoking cigarettes.
Penny Dreadful: Fresh Hell: Madame Kali smokes a cigarette while taking a blood bath. She extinguishes the cigarette in the bath tub.
"Lover Come Hack to Me": The character of Charles takes a few puffs from a cigarette while ruminating over how he married into a vast fortune.
---

This article relates to the Hellraiser film franchise.
Community content is available under
CC-BY-SA
unless otherwise noted.