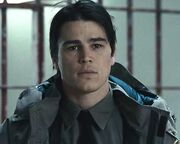 A sheriff is a duly elected political official responsible for maintaining order and enforcing the law within his selected county. In the United States, a sheriff is usually accompanied by a number of deputies. In smaller American towns, the Sheriff's Department is often the prominent law enforcement agency for the entire town without the benefit of a city police department.
In the A Nightmare on Elm Street, and by extension, Friday the 13th film franchises, the sheriff of Springwood, Ohio was a man named Williams. Unlike other town sheriffs, Williams was fully aware of the existence and threat value of dream demon Freddy Krueger and was the architect in a conspiracy amongst the adults of the town to make people forget about him, thus robbing Freddy of his power. [1]
On the HBO series True Blood, the title of Sheriff takes on a different meaning. A sheriff is a rank of leadership within the Vampire Authority and they govern law and order within the vampire community within a specific district. One of the main characters, Eric Northman, is the Sheriff of Area 5, which comprises several different parishes in Louisiana including the cities of Shreveport in Caddo Parish and Bon Temps in Renard Parish.
On the MTV series Teen Wolf, one of the recurring supporting characters, Sheriff Stilinsky is the sheriff of Beacon County. His son, Stiles, is one of the main characters on the show.
On the HBO television series True Blood, the vampire leader of a particular district, usually comprising multiple cities, is referred to as a sheriff.
----

This article relates to the Bitten television series.
This article relates to the True Blood television series.
Community content is available under
CC-BY-SA
unless otherwise noted.