Includes a list of characters, actors and production crew members whose first names are Roger.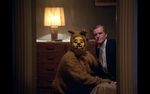 Very little is known about this individual save for that his name was Roger. Roger was a guest at the Overlook Hotel in the 1940s. In 1945, the hotel's new owner, Horace Derwent, threw a lavish masquerade ball in honor of the hotel's re-opening. Roger attended the ball dressed in a dog costume. At some point, Roger must have died in the hotel, for his ghost remained behind, occupying one of the rooms. Thirty-some years later, Wendy Torrance - wife of the winter caretaker Jack Torrance, began seeing the various ghosts in the house. She saw the mysterious "dog man" in what appeared to be some form of sexual congress with another man, possibly even Horace Derwent himself.
Community content is available under
CC-BY-SA
unless otherwise noted.