This page is similar in name or subject to other pages.
See also Phantom of the Opera for a complete list of references to clarify differences between these closely named or closely related articles.
The Phantom of the Opera


Dario Argento's Phantom of the Opera

Credits
Title
The Phantom of the Opera
Directed by
Dario Argento
Written by
Dario Argento; Gérard Brach
Produced by
Claudio Argento; Giuseppe Columbo; Aron Sipos
Music by
Ennio Morricone
Cinematography
Ronnie Taylor
Edited by
Anna Napoli
Distributed by
Cine 2000; A-Pix Entertainment
General Information
Release date(s)
November 20th, 1998
Film Rating
R
Running time
99 min. (US)
106 min. (Director's cut)
Country
Italy
Language
Italian
Budget
$10,000,000
Gross revenue
Unknown
Preceded by
—
Followed by
—

The Phantom of the Opera is an Italian horror film written and directed by giallo master Dario Argento. It is the fifth feature-length adaptation of Gaston Leroux's serialized 1909-10 novel Le Fantôme de l'Opéra. The film was produced by Cine 2000 and premiered on November 20th, 1998.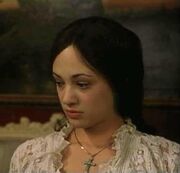 In Paris 1877, rats save an abandoned baby in a basket and raise him in the underground of the Opéra de Paris. This child becomes The Phantom of the Opera (Julian Sands), a misanthrope who kills anyone who ventures into his underground chambers, just as rats are killed who venture above ground.
The Phantom, who is not disfigured and hence does not wear a mask, falls in love with Christine Daaé (Asia Argento), an opera singer just beginning her career. He speaks to her using telepathy, and the two begin a romantic relationship. Unlike in other versions, however, he does not teach her to sing.
Meanwhile, the aristocratic Baron Raoul De Chagny (Andrea Di Stefano), has fallen in love with Christine, though at first Christine offers him only platonic relationship. Later, she ruminates that she may be in love with both men.
After making love, the Phantom forces Christine to stay in his subterranean chambers as he goes to secure the role of Juliet for her by bringing down the chandelier. Christine grows angry with him and his controlling ways. She tells him she hates him, and when he returns, she refuses the role he has secured for her, and he basically rapes her. Afterward, while he is playing with his rats, she escapes.
She flees into the arms of Raoul, and they ascend to the roof, where the Phantom hears them confessing their love for each other. The next night, as Christine sings, the Phantom swoops down and steals her away into his chambers. Raoul et al. give chase, and Raoul shoots the Phantom. Mortally wounded, the Phantom's main concern becomes Christine's safety, as he fears that the police will kill her now that they know she's his mistress. The Phantom shows Christine and Raoul a waterway out of the underground tunnels, and then fights off the police as Raoul rows a hysterical Christine to safety.
| Actor | Role |
| --- | --- |
| Julian Sands | The Phantom |
| Asia Argento | Christine Daaé |
| Andrea Di Stefano | Baron Raoul De Chagny |
| Nadia Rinaldi | Carlotta Altierri |
| Coralina Cataldi-Tassoni | Honorine |
| István Bubik | Ignace, the rat-catcher |
| Lucia Guzzardi | Madam Giry |
| Aldo Massasso | Pourdieu |
| Zoltan Barabas | Poligny |
| Gianni Franco | Montluc |
| David D'Ingeo | Alfred |
| Kitty Kéri | Paulette |
| John Pedeferri | Doctor Princard |
| Leonardo Treviglio | Jerome De Chagny |
| Massimo Sarchielli | Joseph Buquet |
| Luis Molteni | Nicolaud |
| Enzo Cardogna | Marcel |
| Itala Békés | Carlotta's mother |
| Claudia Kemones | Hermine |
| Csilla Ward | Liza |
| Reka Pozsgay | Marthe |
| Ferenc Deák B. | Edgar Degas |
| Rozso Ludvigh | Gounod |
| David Drucker | Kiki |
| Gábor Harsai | Marc |
| Balázs Tardy | Longuet |
| Dénes Ujlaky | Papin |
| Sandor Bese | Dwarf |
| Iván Dengyel | Martin |
| György Szakaly | Ballet master |
| Ferenc Ratkai | Polidori |
| Podporina Ilona | Rose |
| Frigyes Hallósi | Friend |
| Istvan Szöczey | Faust |
| Szabo Bente Robert | Poet #1 |
| Zoltán Rajkai | Poet #2 |
| Tania Nagel | Mother |
| Rodrigo Crespo | Father |
| Zsolt Anger | Waiter |
| Zsolt Derecskei | Romeo |
| Tibor Nemes | Mephisto |
| Lásló Pethö | Pianist |
| Daniel Zdroa | Pianist |
| Bela Nemeth | Pianist |
Notes & Trivia
Edit
Known in Italian as Il fantasma dell'opera.
External Links
Edit
References
Edit
---
Community content is available under
CC-BY-SA
unless otherwise noted.