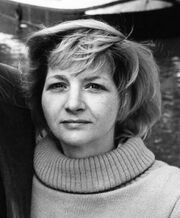 Kathleen "Kathy" Theresa Lutz is an alleged haunted house survivor and possible confidence artist. She was born on October 13th, 1946 and passed away from emphysema in Scottsdale, Arizona on August 17th, 2004 at the age of 58. [1][2] She was the wife of George Lutz. Kathy had three children from a previous marriage: Daniel, Christopher and Missy. She had two children with George Lutz (born after the Amityville inciden).
George and Kathy Lutz purchased a Dutch colonial home at 112 Ocean Avenue in Long Island for $80,000, and moved in on December 18th, 1975. The house had a grim history, for it was the scene of a mass murder, committed by Ronald DeFeo Jr. on November 13th, 1974, when DeFeo used a shotgun to kill his parents and four siblings.
For the next twenty-eight days, the Lutz family supposedly experienced supernatural phenomena that ultimately drove them from the house. They abandoned it on January 14th, 1976. Never setting foot inside the place again, the Lutz's sold the home at a substantial loss. [3]
Their story was chronicled by author Jay Anson in his novel, The Amityville Horror, which was published in 1977. The book inspired a 1979 feature film, The Amityville Horror in 1979, where the role of Kathy Lutz was played by actress Margot Kidder. The film was remade in 2005 by director Andrew Douglas. Actress Melissa George played Kathy Lutz in the remake, which was released six months after Kathy Lutz' death.
In the years following the 1975 incident, many have come to believe the entire story was nothing but an elaborate hoax. Kathy Lutz herself admitted as such years after the fact, having since divorced from George Lutz decades earlier. To his dying day, George Lutz continued to attest that the events he claimed to have experienced at the house were the truth.
References
Edit
---

Amityville Horror Character
This article relates to characters featured in and pertaining to the Amityville Horror film franchise. This template will categorize articles that include it into the Amityville Horror characters category.
Community content is available under
CC-BY-SA
unless otherwise noted.