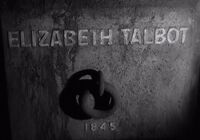 Elizabeth Talbot is a fictional character referenced in the "Universal Monsters" film series produced by Universal Pictures. The character was identified in the 1943 film, Frankenstein Meets the Wolf Man, though he does not actually appear in the film. As such, Elizabeth Talbot is not portrayed by an actress. Elizabeth Talbot was a member of the wealthy Talbot family of Llanwelly Village in Wales. She passed away in 1845 and was interred at the Talbot Family Crypt. Elizabeth was related to a man named Martin Talbot, who was likewise interred in the crypt when he passed in 1837. It is unknown exactly what their relationship was. Elizabeth's memorial plaque was located underneath of Martin's. Elizabeth and Martin were ancestors of Sir John Talbot and John's children, which included cursed werewolf, Larry Talbot.
---
This image pertains to characters and locations featured in the Wolf Man film franchise. This template will categorize images that include it into the Wolf Man characters category.
Community content is available under
CC-BY-SA
unless otherwise noted.