This page is similar in name or subject to other pages.
See also Brian for a complete list of references to clarify differences between these closely named or closely related articles.
Brian Jeffrey Krause is an American film and television actor born in El Toro, Orange County, California on February 1st, 1969. He is the second of two sons born to Jeff and Alice Krause. His older brother is named Patrick. Krause graduated from El Toro High School in the summer of 1987 and continued his education at Orange Coast College.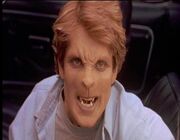 Brian's first professional acting work was playing a bit role of a student in the "Kangaroo Gate" episode of TV 101. His first major horror film role was in 1992 when he played feline shape-shifter Charles Brady in Mick Garris' film Sleepwalkers. The following year he played Tex Crandell in the "House of Horror" episode of Tales from the Crypt.
From 1998 to 2006, Brian Krause played a major role in the supernaturally-themed WB Network television series Charmed as mystical Whitelighter Leo Wyatt. He was introduced in the season one episode "Thank You for Not Morphing" and made recurring appearances throughout the remainder of the season and the first half of season two. Midway through season two, Krause became a regular cast member on the series and remained so throughout the duration of the program. In total, he appeared in 145 episodes.
In 2010, Brian played the lead role of Andrew Stanton in the Elias Matar film Ashes.

Charmed Actor or Crew member
This article relates to actors or production crew members pertaining to the Charmed television series. This template will categorize articles that include it into the Charmed crew members category.
Community content is available under
CC-BY-SA
unless otherwise noted.